Every day I publish my Chart of the Day which is the chart of a stock that has done very well over the past 6 months. One of the most common comments I receive is: I owned that but sold it too early. Have you ever gone back and analyzed why you sold it and what signs you may have missed.
In over 50 years of investing I've learned that there is no single signal that should trigger a sell 100% of the time.
I use Barchart and its many technical tools to give me the information I need to make a sell decision. The only reason to sell a stock is :
I'm losing money and need to stop the bleeding to protect my principal
I'm not making any money and need to replace this position with a better opportunity
I'll share with you the 4 things I look at before I push the sell button. Each one may be a Sell Alert but no single one is enough for me to make a decision.
Here's my list:
Barchart technical sell signals of 50% or more. Each Friday I sort my portfolios in inverse order with the highest sell signal at the top
10% off it's most recent high -- If I can keep all my losses to less than 10% that's my tolerance for pain
Weighted Alpha below my benchmarks. I have 2 benchmarks that I list in every portfolio: 1) The Value Line Arithmetic Index because it is an unweighted index of the 1700 largest stocks and covers about 96% of the entire capitalization of all publicly trade stocks and 2) The Russell 3000 Index because its's a capital weighted index covering about 98% of the entire capitalization of the stock market. Why hold a stock that is performing worse than my benchmarks averages?
Lastly, I always use the Flipchart feature and look at a chart of my stock's price vs. the Trend Spotter and its 20, 50 and 100 Day Moving Averages. I look at the stock's trend and if it is exhibiting any signs of recovery.
Let's look at Adecoagro (AGRO)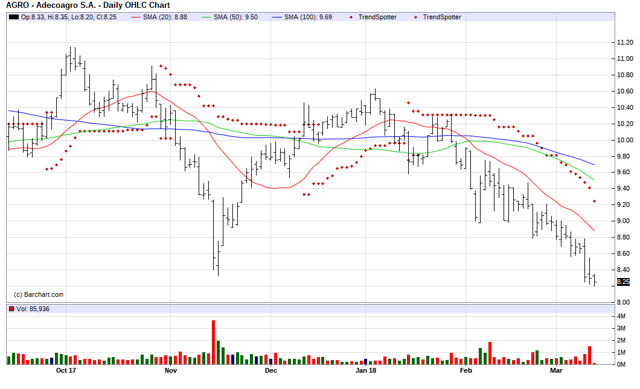 Barchart technical indicators:
100% technical sell signals
74.51- Weighted Alpha
30.56% off its 52 week high
A chart with all 4 of my trend lines pointing down with no indications of reversing the trend
I think you can agree that this is a stock I should sell.
Now let's look at Dollar Tree (DLTR) a stock that has some but not all of my Sell Alerts.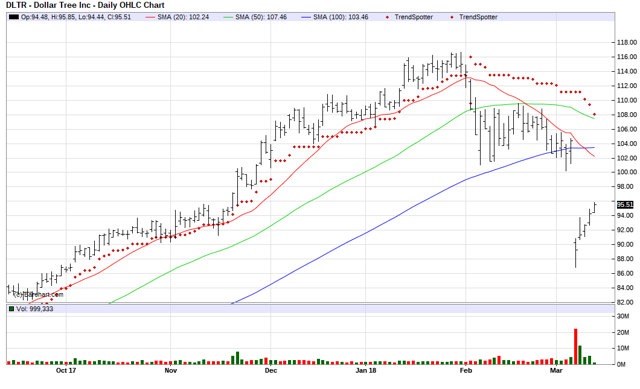 Barchart technical indicators:
72% technical sell signals
22.49+ Weighted Alpha
17.89% off it 52 week high
But a chart looks like either a dead cat bounce or the start of a recovery trend
On a stock like this I might put in a sell stop loss at around 87 and move up that stop loss a little bit every week till I can see if it recovers.
My sell criteria might not work for you but I is a rational method I feel comfortable with.
I hope this explanation is helpful for you.